Background to the first Rainbow hanging
Felting a large tribal Rainbow Wallhanging in fine Merino wools embellished with mulberry and tussah silks and felted tassels and balls.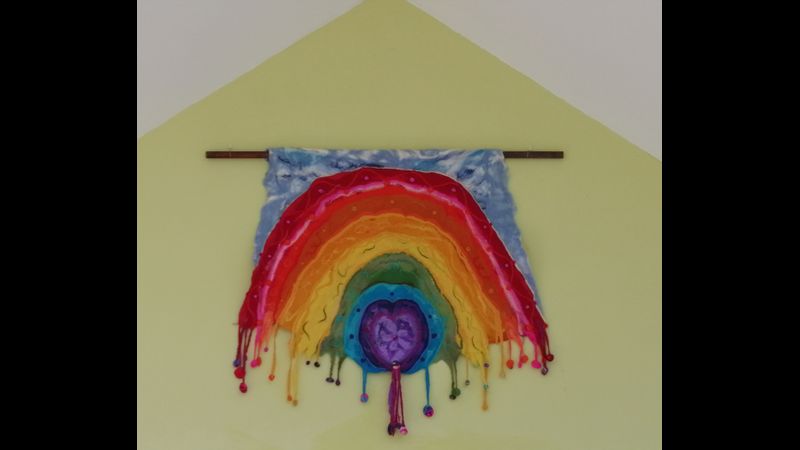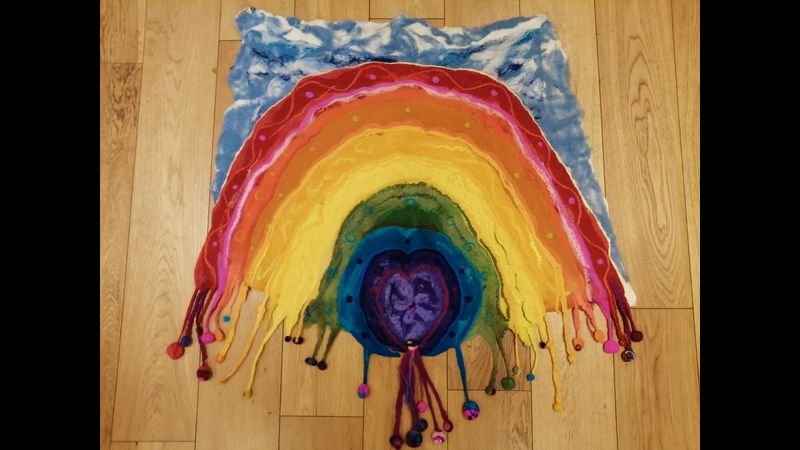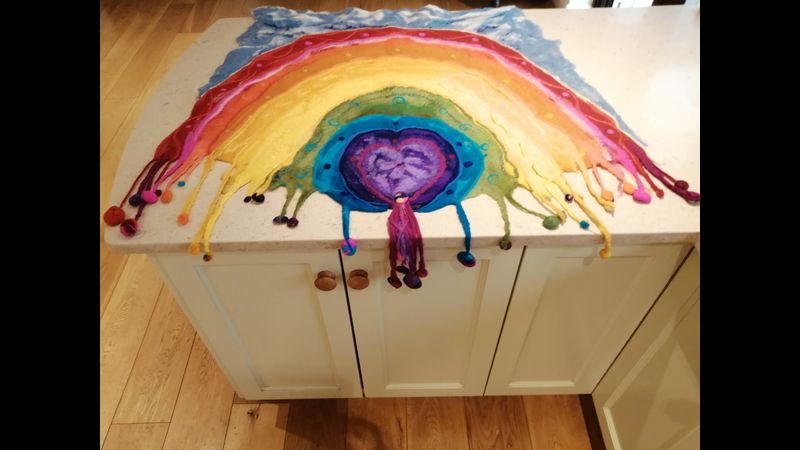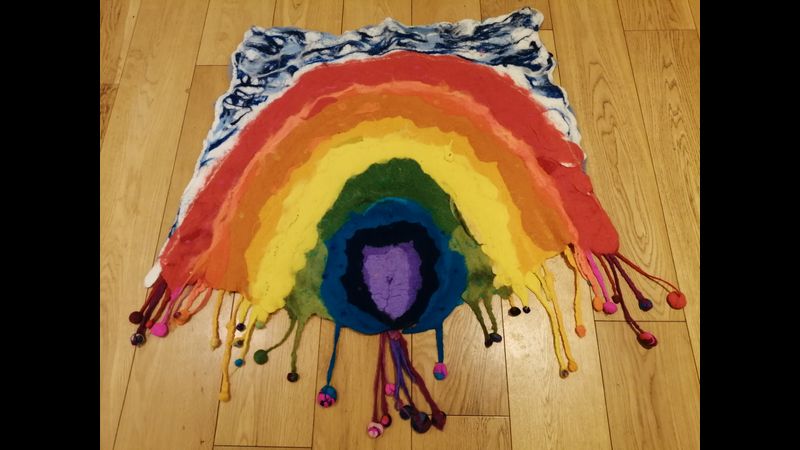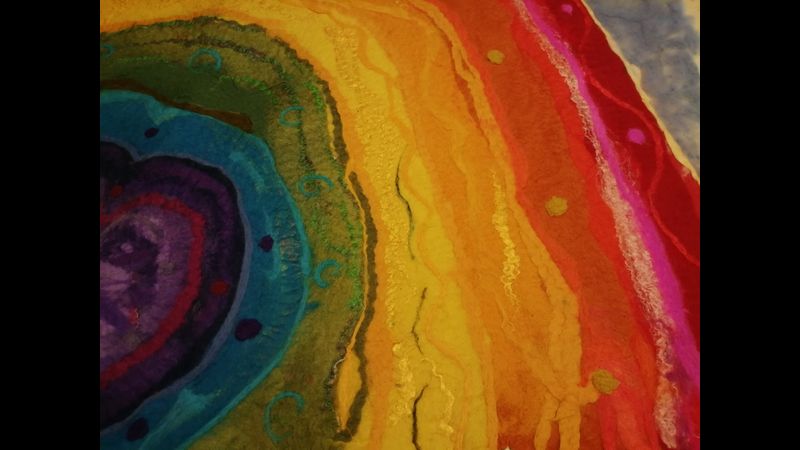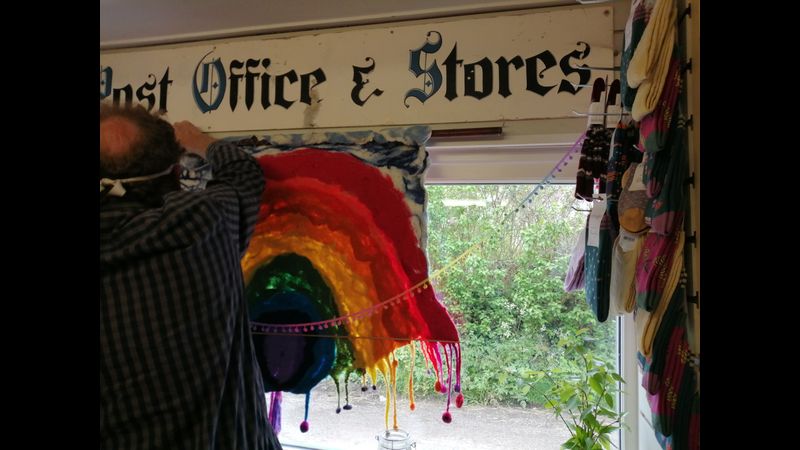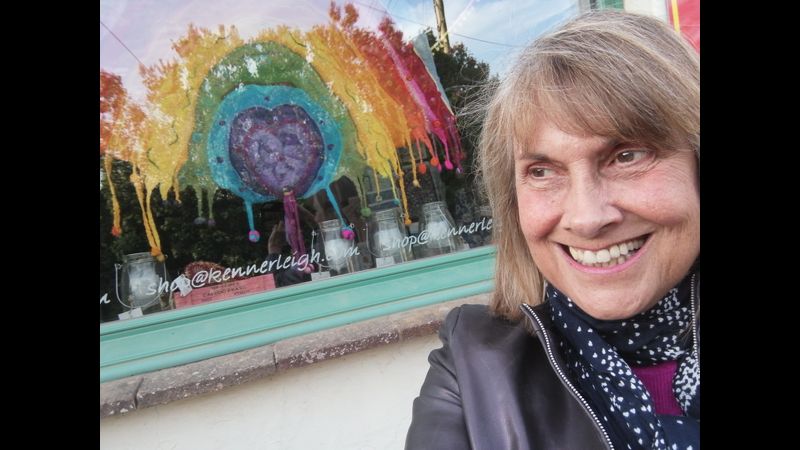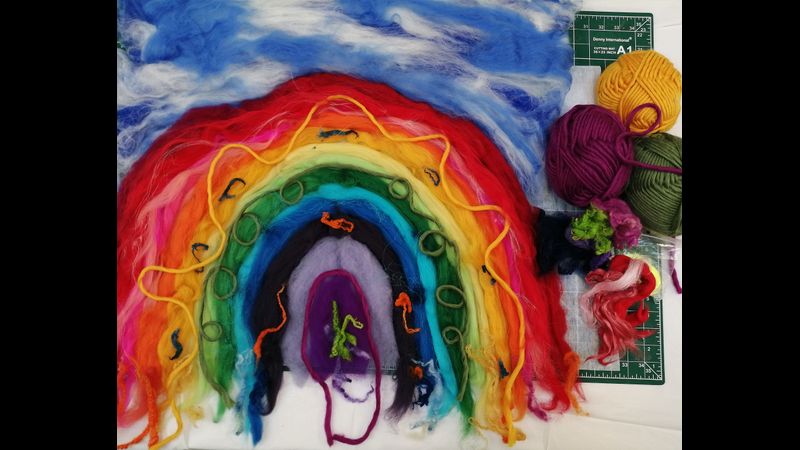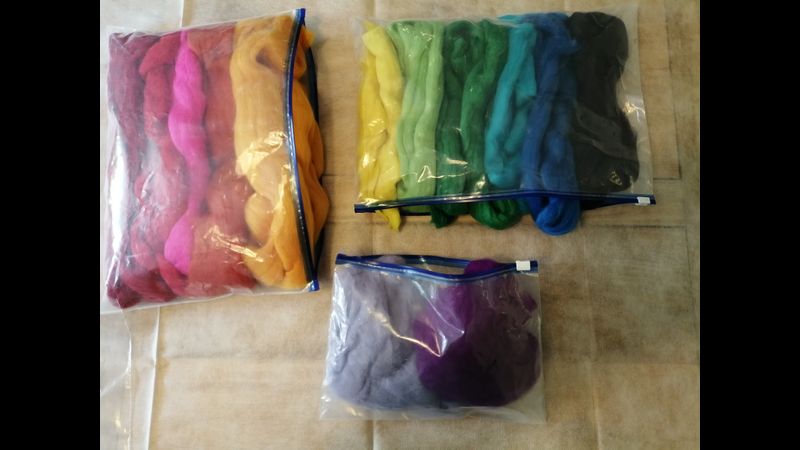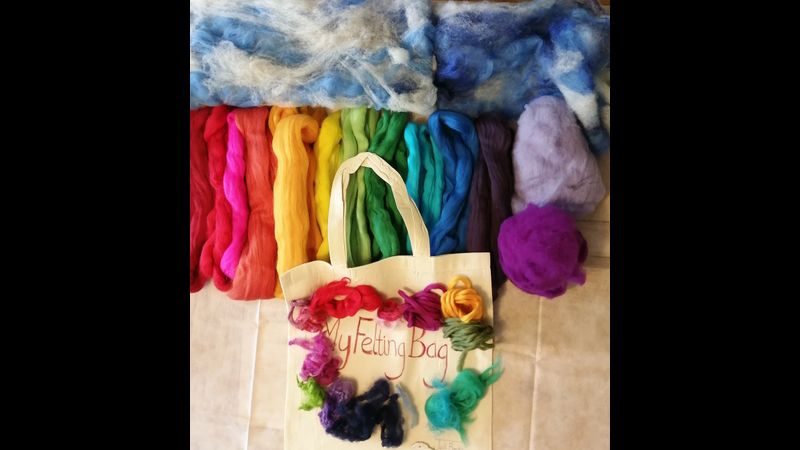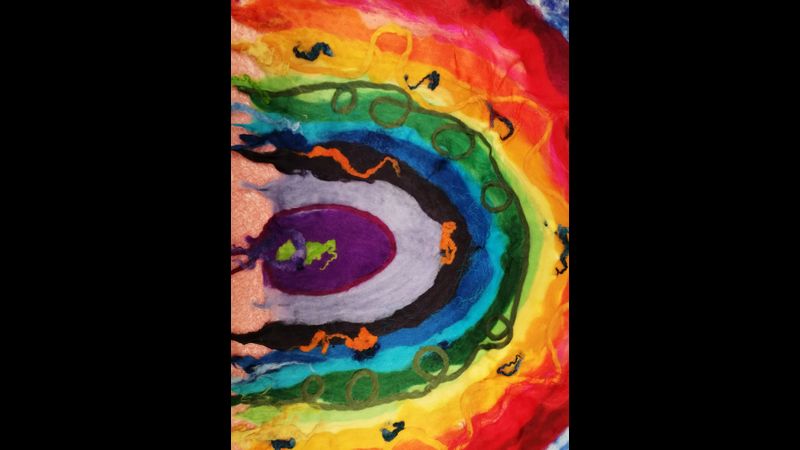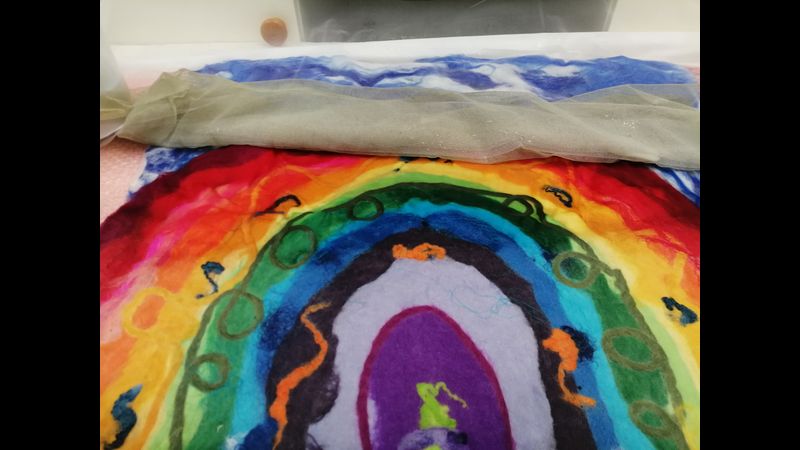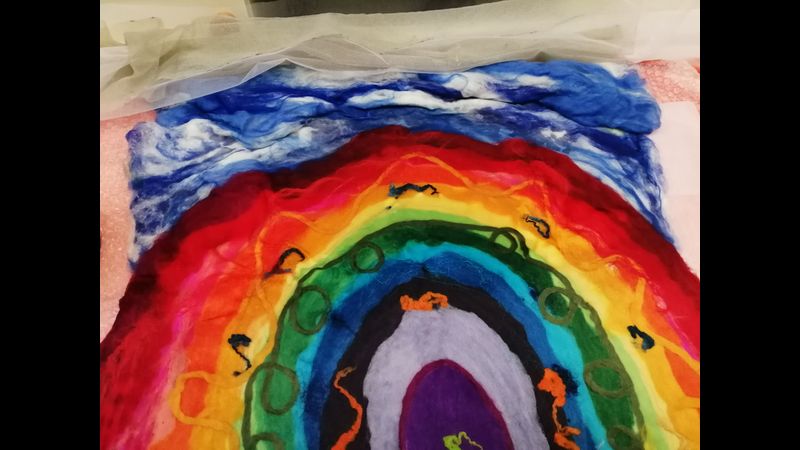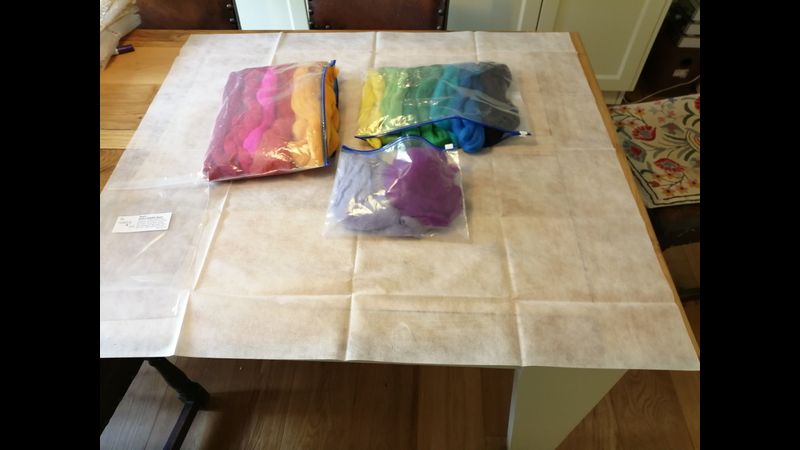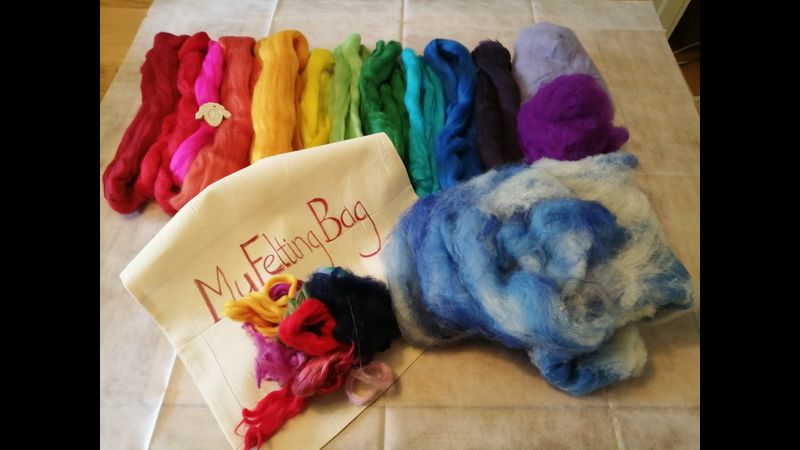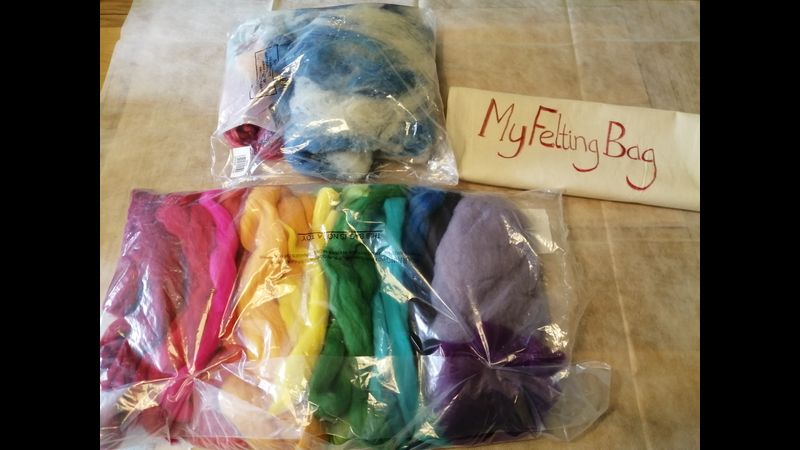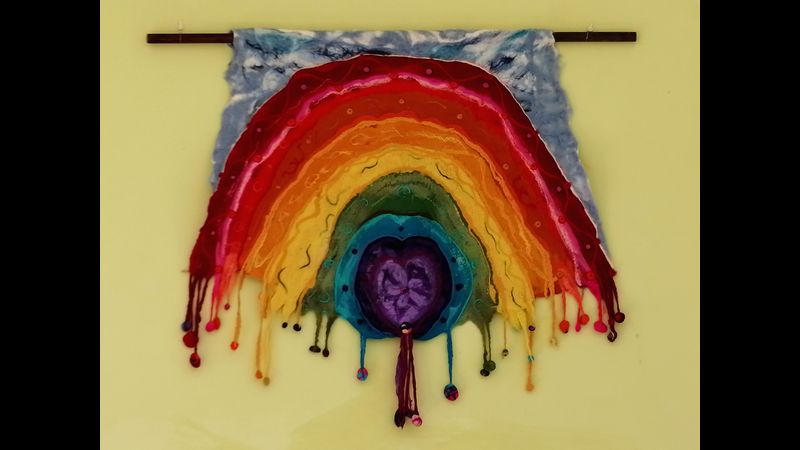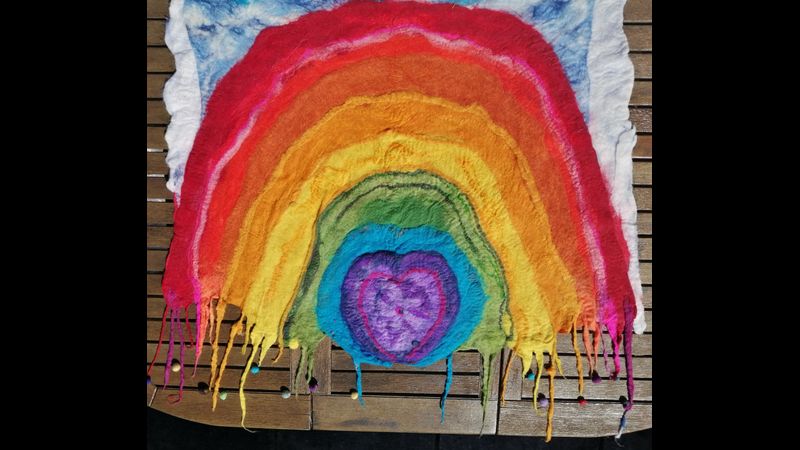 About the Rainbow wallhanging or window hanging kit …
Would you like to craft a lasting memorial to signify these dark days?
My huge tribal Rainbow wallhangings and window-hangings have been acclaimed by people searching for a more meaningful and spiritual artistic expression for their inner hopes and fears. I've had orders from all over the UK – from the south west of England to the north of Scotland.
We've all seen the emblem of the rainbow 🌈 used as a sign of thanks and a symbol of hope in strange, uncertain times.
I found that by adding a wider range of colours in wools and silks, I was able to scale up the simple rainbow to felt a large embellished wallhanging to be a lasting witness to my experience and a beautiful heirloom for my grandchildren.
Why is it Tribal?
I added vibrance and depth by blending and combining a range of shades of each of the seven colours of the rainbow. Pops of pink and turquoise radiate from the arc, beneath a canopy of sky and the edges of each colour are woven into fringes extending beyond the lower edge – all combining to give it an ethnic, tribal feel.
I needlefelted symbols and cyphers into one side of the piece to represent Coronas, agape, omegas and kappas as I wanted it to signify yet mask my feelings.
This project will take you several days to accomplish, but working with these vibrant colours and being able to walk away and return to it afresh will be a transformative experience.

What's included in the price?
Online link to detailed step by step illustrated instructions on how to make a tribal Rainbow wall hanging.
To make a One Metre Square Wall-hanging Kit costs £45 + £3.70 P&P.
To make a 50cm by 50cm tribal Rainbow Wall-hanging Kit costs £32 + £3.10 P&P.
Each pack comes in a calico bag for your felting and with a bar of hand-made olive oil soap and my ceramic porcelain maker's mark to authenticate your work.
Each Kit contains ample amounts of:
Sixteen shades of fine Merino wools in all the colours of the Rainbow.
Embellishments of:-
Mulberry and tussah silk fibres.
Curly tops. Felting pencil yarns.
A hand carded batt of blues, whites and greys for the sky canopy.
Extra wools to make the fringes, tassels and felted balls.
One metre square of ArtFelt paper on which to lay out your design. (This paper dissolves with the addition of warm water and soap during the actual wet felting process.)
Four strips of tulle netting, equal to more than one square metre, to hold your design in place whilst you are working on different sections.
What you will need
A large table or work surface you can use for a few days at least
Large sheet of bubble wrap.
Old bath towel to lay on table.
Spray water bottle. Warm water. Soap.
A foam insulation pipe to use as a roller in the wet felting process.
Your imagination to run free!
Contact
Judi Binks at Felting in Devon
Email me at: feltingindevon@gmail.com
Text me on 07837 436395. I always try to respond within a few hours.
Available as a gift. £45 + P&P.
You will need…
A large table top or work space that you can reserve for this project for at least two days.
Plastic sheeting to protect work space.
Old bath towel to cover the work surface and soak up the water.
Two sheets of bubble wrap measuring at least one square metre.
A large net or lace curtain to hold the design in place when it's under construction and before wetting down the wools.
A sheet of water soluble Art Felt paper at least one metre square on which to draw out the rainbow template denoting the coloured arcs. Red, orange, yellow, green, blue, indigo and violet.
Plenty of hot water in plastic spray bottle or braiser. Hand soap or liquid soap.
Design concept …
Felting is not an exact craft so perfect lines might not be possible so allow for these possibilities.
Symmetry is an important aesthetic, however. Think about the inner arc, the violet arc. It could be semi- circular, heart shaped, a tear drop, a face or a symbol – something that is unique and special to you.
Think about the sky backdrop which is not only decorative but structurally important when hanging, as the final piece will be heavy.
Colours of the Rainbow
Do you want simple paint box colour in each of the seven arcs or a gradation of hues and shades of each colour to add tonality and depth to your rainbow? If so, select your colours and lay them out in various combinations to achieve a satisfying effect.
Remember …you will need decreasing amounts of fibres as you move from red down to violet. It is vital that you divide your selection of all the hues into two equal piles before you start so you don't run out before completing each arc.
Draft your rainbow design on to the ArtFelt paper using all the space as there will be shrinkage. Label each layer with Colour to remind you when laying down the fibres.
I usually start laying out from the bottom left and work up to the apex before working down to the other side. This will ensure you don't run out of fibre.
The Sky can be added on separately after the rainbow is laid out. See later pictures.
The fringes and tassels can be added once the basic rainbow design has been laid out. Fringes are a useful way of adding length to the project and for using up left over wools. Stitching on felted balls to the ends of tassels also adds to the fun.
How to lay out the fibres
Doing the other side…
Adding a Sky background?
To be continued…